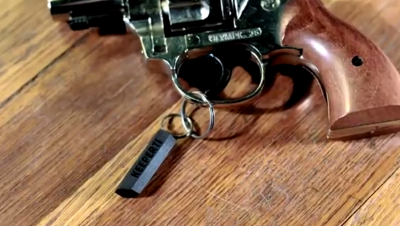 KeeperTI's creators say these small devices can give gun owners peace of mind.
Crowdfunding is a popular choice for modern inventors seeking the financial means to bring their products to market, and two enterprising software engineers recently launched a an indiegogo campaign for their new device called KeeperTI. The idea behind the small, tile-like contraption is simple. KeeperTI "tags" track whatever it is attached to, letting users find the item by using a smartphone app. While this technology has been thoroughly explored before by other inventors, the minds behind KeeperTI have included two features geared specifically towards gun owners. First, the tag emits an audible alarm when the device is tampered with or moved from a set zone, and then the owner is alerted by phone. KeeperTI even shows the item's last known location if the tag is removed or damaged.
However, some worry that because the device uses WiFi to send out signals, it will be too easy for hackers or burglars to identify which homes have firearms. KeeperTI's creators responded that the devices run on secure encrypted Bluetooth networks and that they are not necessarily used only on firearms. KeeperTI tags can also be attached to valuable items like bikes, automobiles, laptops, and more. Tags also come in the form of a key ring, which make it easy to track luggage or even children. If successful in raising money for production, KeeperTI tags are expected to sell for around $20.
You can learn more about the device below:
Source: http://www.outdoorhub.com/news/new-compact-tracking-product-geared-towards-gun-owners/?utm_source=SilverpopMailing&utm_medium=email&utm_campaign=Dec%2016%202013%20Daily%20Newswire%20(1)&utm_content=