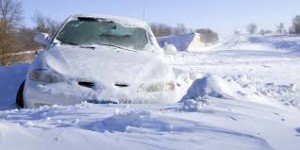 If you are lost in the back country or looking for resources after TEOTWAWKI, an automobile can be a gold mine of survival items.  Every year I see stories of people who get lost and die after leaving their vehicles.  This year two adults and several children were stuck in Nevada, and by staying with their jeep and using their resources were able to survive.
If you are lost and there is a search being conducted to find you, a vehicle is easier to spot from a plane or road.  It provides shelter from the wind and rain.  Lying under it can shelter you from the sun.
How you use the vehicle depends on whether you are lost and awaiting rescue or are you building a camp after TEOTWAWKI.  Now I am not saying it is OK to loot after TEOTWAWKI, but an abandoned car maybe the difference between life and death.
Some ideas on how to use a vehicle for survival.
The battery can be used to start a fire or reused for other purposes.  Don't forget the cigarette lighter.
Wiring has many uses from making a snare to tying bush together to improve your shelter.
Tires can be burned or used to make sandals
The oil drained from the crankcase can be used to make a signal fire.
Gasoline can be used to start a fire.  Even if you vehicle has ran out of gas, you may find a small amount in the fuel lines.
The interior of the car contains foam rubber in the seats that can be used to insulate clothes or start fires.
The material from the headliners in some vehicles can be used to improvise clothing, hats, or to repair gear.
By searching the car, you may find food, tools, scrap paper, an old water bottle, or other items that can be of use to you.
If the vehicle is old enough to have real hubcaps, you can use them to boil water or cook with.
The top of the side windows can be use to sharpen your knives.  
You may be able to improvise a knife or a frog gig from parts of the car.
The mirrors can be use to signal a plane.
Take the seats out to sit in the shade and stay out of hot desert sand.
You can wire up the battery to a headlight to use as a signaling device at night.
Many cars have some mag
Article Source: http://preparednessadvice.com/survival/survival-resources-found-vehicle/