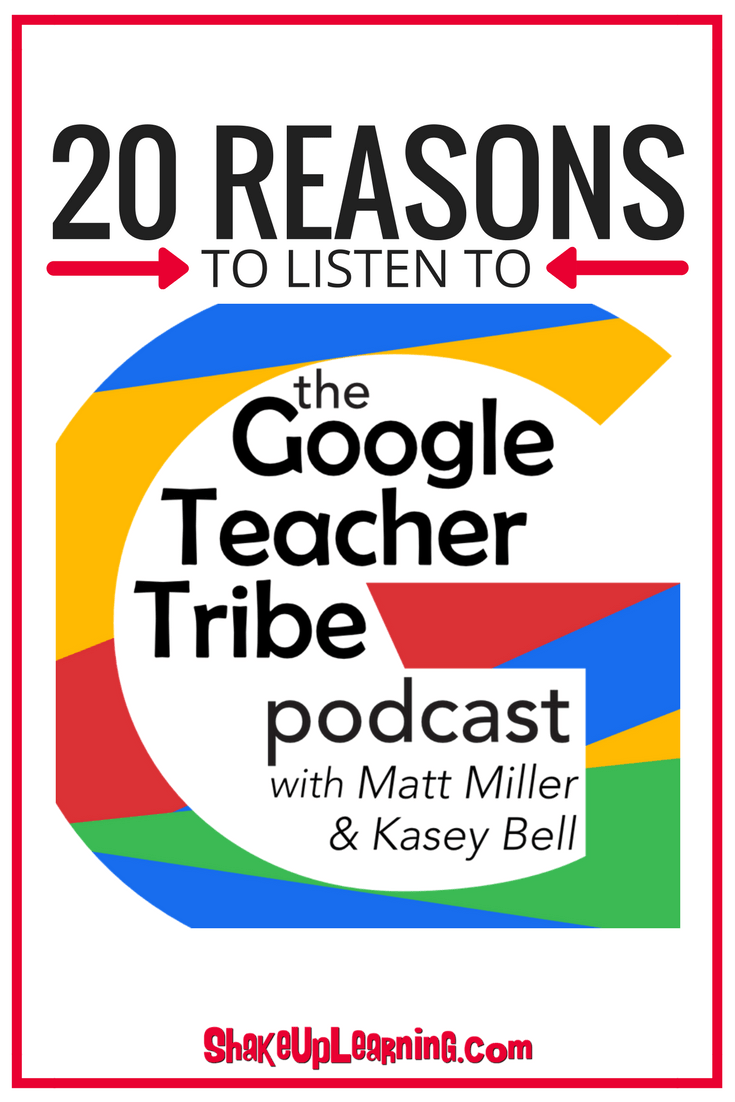 Do you listen to podcasts? I do! I love them. Podcasts are a great way to get PD on the go. You can listen in the car, on your run, during your workout, or whatever you prefer. I teamed up with my friend, Matt Miller, from DitchThatTextbook.com to create The Google Teacher Tribe podcast. We just completed our first season, and I don't want you to miss out on this fun and FREE PD! You might say, I am #superexcited to share this with you!
What is a Podcast?
In case you are new podcasts, let me explain. An audio podcast is like a recorded radio show that you can subscribe to using your favorite device. Think of it like talk radio on demand. Only with The Google Teacher Tribe, we are talking Google and sharing ways that you can use Google tools in your classroom. Most episodes are 30-40 minutes, so it's not a huge time commitment. And since it's a recording, you can always pause and come back later. Oh, and you don't have to worry about taking notes. We share everything in our show notes at GoogleTeacherTribe.com.
[Tweet "20 Reasons to Listen to The Google Teacher Tribe Podcast #gttribe #googleedu #gsuiteedu #edtech"]
What is the Google Teacher Tribe Podcast?
The Google Teacher Tribe Podcast is a weekly podcast designed to give teachers practical ideas for using G Suite and other Google tools that you can use in your class tomorrow. We offer our favorite Google tips and tricks, important updates, and effective strategies for K-12 teachers. But wait…there's more! We also have interviews with innovative and inspiring teachers.
How to Subscribe
You can subscribe to the Podcast on iOS, Android, Stitcher or RSS
Join the Tribe!
You can even get the show notes sent straight to your inbox by joining the Tribe and our email list. And if you join our email list, we will send you a cool VIP badge!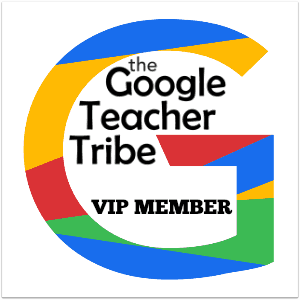 **Already a listener? Let us know your favorite episode or segment in the comments below.
---
In case you missed out on the first twenty episodes of the podcast, I've got a summary below. Click on the episode link to access the show notes.
1.
Empower Teachers with The Google Teacher Tribe Podcast
In our first episode, Matt and I discuss the purpose of the Google Teacher Tribe, introduce ourselves and share our journey through the Google Innovator Academy. We also share some Google news and updates, and some special resources from our blogs.
---
2. How to Make Their Learning Go Viral
In our first interview, we talk with TOSA, Karly Moura. Karly shares her favorite Google tips and tools, some fun ways to use Google Expeditions, the @gafehelp project, AND a FREE lesson plan!
---
3. The New Google Sites
In this episode, Matt and I dig deeper into all that the New Google Sites has to offer. We share our favorite features and discuss what's missing.
---
4.
Google in Special Education
In this episode, we talk with special education teacher, Carrie Baughcum, and she shares how she integrates Google into her curriculum and empowers students with creative thinking, a fearless attitude, and gamification.
---
5. Differentiation with Google Classroom
In episode 5, Matt and I share our favorite tips and tricks for differentiation using Google Classroom.
---
6. #GAFE4Littles with Christine Pinto
Think that the little ones can't use Google? You're wrong! And kindergarten teacher, Christine Pinto, shares the why and how she takes full advantage of G Suite in her classroom.
---
7. Video Projects with G Suite
In this episode, Matt and I discuss ideas for video projects with G Suite. Learn our favorite tips, tricks, and lesson ideas!
---
8. Meet the Student Chrome Squad
In this very special interview, we talk with a high school student tech support team, The Chrome Squad, from Royse City High School. Learn how they support teachers and students at their 1-1 high school with tutorials, badges, just in time learning and more!
---
9.  The Magic of Google Forms
Google Forms can go far beyond a simple survey tool. In this episode, Matt and I share our favorite features and ways to make the most of Google Forms in your classroom.
---
10. Make Your Google Drive Gorgeous
In this interview, we introduce you to Digital Literacy Resource Teacher, Jen Giffen, who share some amazing Google Drive tips to spice up the look and feel!
---
11. Keeping Up with Google Keep
Now that Google Keep is officially part of G Suite for Education, take a deeper dive and learn how this robust tool can support the learning in your classroom.
---
12. Staying Productive with Google Chrome
In this episode, we share our favorite Chrome extensions for staying productive in and out of the classroom.
---
13. Using G Suite to Improve Writing
In this special interview with literacy expert, Shaelynn Farnsworth, we learn how G Suite tools can support young writers through every step of the writing process!
---
14. Hidden Treasures from Google
G Suite is loaded with so many free tools, but there are many hidden gems you may not even know about! Listen to this episode to learn more!
---
15. Using G Suite in Math Class
In this episode, we interview the "G Math Guy," John McGowan, and he shares how you can go digital and paperless in the math classroom.
---
16. Tour the World with the New Google Earth
Have you seen the NEW Google Earth!!!! It is absolutely fantastic! In this episode, Matt and I dig deep into this amazing tool and share our favorite ideas for classroom integration.
---
17. Our Favorite Google Docs Tips and Tricks
Google Docs is a great word processor that is loaded with features. Let's dive in and learn some super cool tips and tricks!
---
18. Google Slides Can Do Whaaatttt???!!!
Did you know that Google Slides can do much more than just create presentations? Listen to this episode to get creative with Google Slides and up your Google game!
---
19. Tell Me a Story with G Suite
Digital Storytelling is such a fun way to increase learning and engagement in the classroom, and G Suite gives us a ton of options to tell stories in new ways! Listen to learn more!
---
20. We Love Our Tribe
This episode is dedicated to The Google Teacher Tribe–that's you! We learn so much from the Tribe that we wanted to share the love, the ideas, and amazing things you are doing in your classroom.
---
Submit Your Questions to the Podcast
We would love to answer your questions on air! Please feel free to submit your questions here and leave us a voicemail so we can play your question for our listeners.
https://googleteachertribe.com/feedback 
**What topics and/or interviews would you like to hear in Season 2 of The Google Teacher Tribe Podcast? Please share in the comments below.
---
Leave Us a Review!
We would love to hear what you think about The Google Teacher Tribe Podcast. Please leave us a review in iTunes and help other teachers find this free resource! Here's how to leave a review on an iPhone or iPad.
Don't have an iDevice? Leave a comment below to let us know your thoughts!
---
Become a VIP Member of the Google Teacher Tribe
Are you a VIP??? Become a VIP and join our exclusive email list! This list will give you VIP access to early information about our podcast when the episodes will air, and special resources just for our Google Teacher Tribe!! Just fill out this form.
---
Follow Us on Social Media
---
Sponsor The Google Teacher Tribe Podcast
The Google Teacher Tribe Podcast has some spots open for sponsors and advertisers. If you are interested, fill out this form, and we will contact you with more information.
---
Connect with Shake Up Learning
Email me directly: Kasey[at]ShakeUpLearning.com
Click on any of the icons below to connect with Kasey Bell and Shake Up Learning on social media.







© Shake Up Learning 2022. Unauthorized use and/or duplication of this material without express and written permission from this blog's author and/or owner is strictly prohibited. Excerpts and links may be used, provided that full and clear credit is given to Kasey Bell and Shake Up Learning with appropriate and specific direction to the original content on ShakeUpLearning.com. See: Copyright Policy.