Here are the BEST Blog Posts of 2018!
I have put together a list of the BEST and most popular Shake Up Learning blog posts from 2018.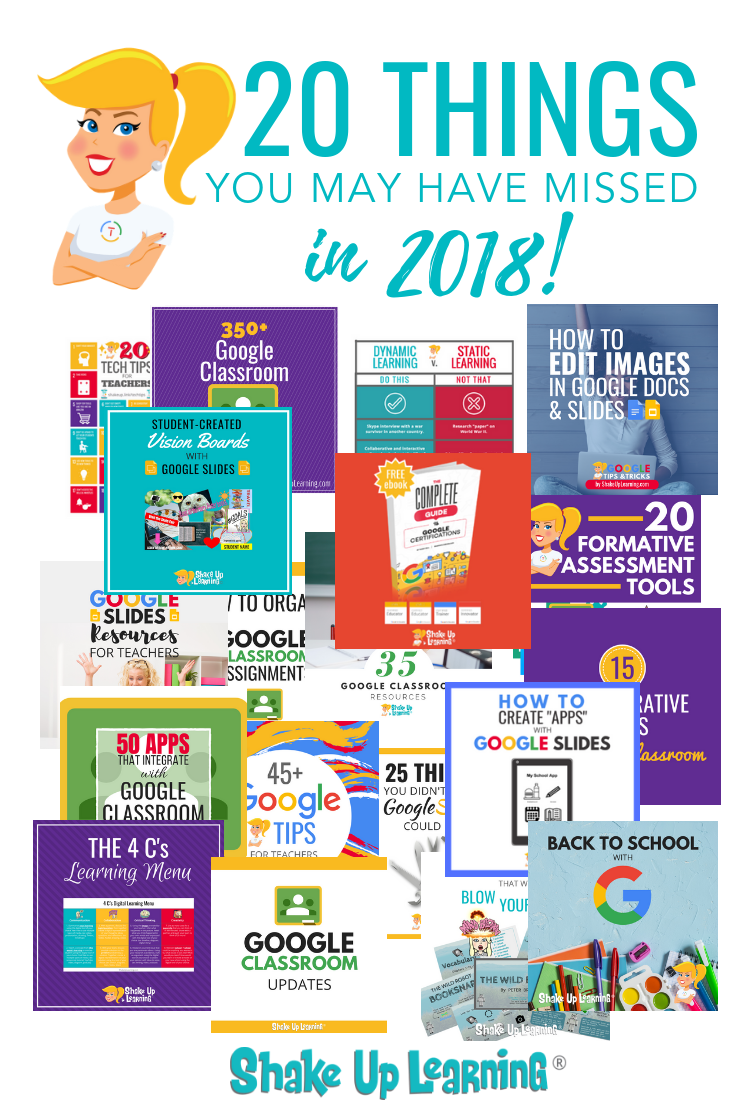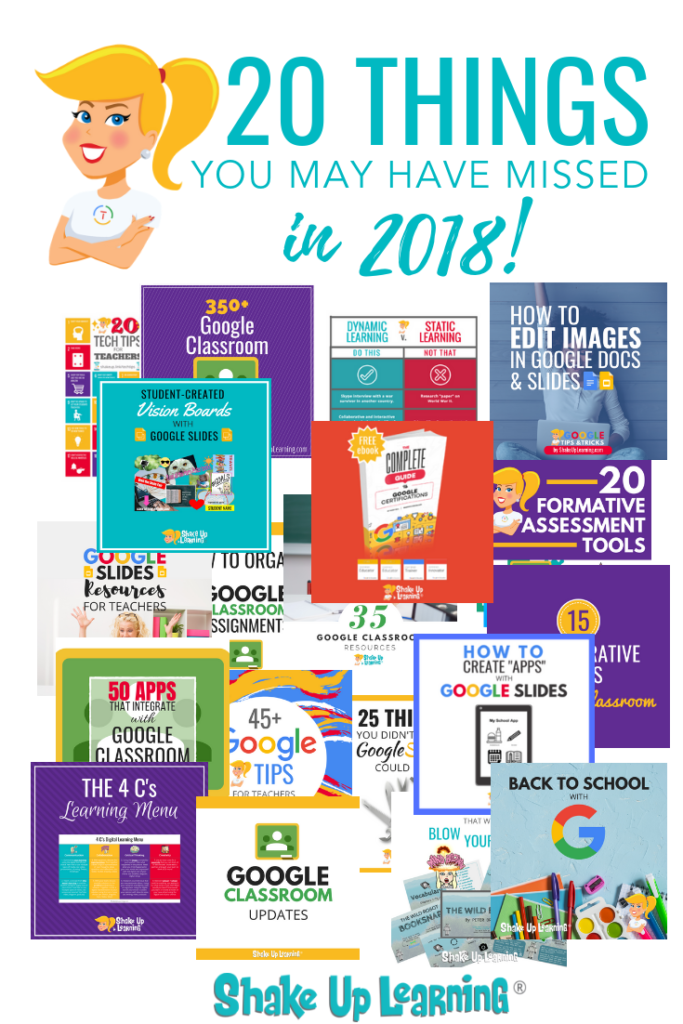 There went another year!
Shake Up Learning will be five-years-old in January (gasp!), and I want to take a moment to THANK YOU!
You have helped me learn and grow as an educator and blogger.
Reflection is such a critical component of the learning process, so I always like to take a look back on the year.
I like to take a deeper look at what blog posts were the most popular and generated the most comments and traffic.
The goal of this blog has always been to provide teachers with educational technology resources, tips, and tricks, and help teachers find ways to integrate technology meaningfully in the classroom.
This list helps me decide what content to create and how to best help teachers in 2019.
[Tweet "20 Things You May Have Missed in 2018! #edtech #edchat #ShakeUpLearning #gsuiteedu"]
What Do YOU Want to See in 2019?
I want to serve my audience! Help me better serve you by completing this short, 60-second survey. (The form is also embedded at the bottom of this post.)
This survey is your chance to let me know more about you and what you need in 2019.
---
Below is the list of the Top 20 Most Popular Blog Posts of 2018 from Shake Up Learning.
Did your favorite make the list? If not, be sure to let me know in the comments.
1.
50 Apps That Integrate with Google Classroom
---
2.
25 Things You Didn't Know Google Slides Could Do!
---
3.
5 Things to Know About the New Google Classroom
---
4.
How to Edit Images in Google Docs and Slides
---
5.
Student-Created Vision Boards with Google Slides
---
6. 
350+ Google Classroom Tips, Tutorials, and Resources
---
7.
20 Formative Assessment Tools for Your Classroom
---
8.
A Hyperdoc Unit That Will Blow Your Mind!
---
9. 
Empower Your Students with The 4 C's Learning Menu
---
10. 
15 Collaborative Tools for Your Classroom That Are NOT Google
---
11. 
Top 20 Tech Tips for Teachers
---
12. 
35 Google Classroom Resources That Will Make Your Day
---
13.
45+ Google Tips for Teachers and Students
---
14. 
6 Tips for Getting Started with Google Classroom
---
15. 
Back to School with G Suite: 6 Activities for the Classroom
---
16. 
FREE eBook: The Complete Guide to Google Certifications
---
17. 
How to Create Your Own "Apps" with Google Slides (FREE Template)
---
18.
5 Ways to Organize Assignments in Google Classroom
---
19. 
12 Google Slides Resources That Will Make Your Day
---
20.
Dynamic Learning v. Static Learning (Do This, NOT That!)
---
What would you like to see in 2019? Let me know by filling out this 60-Second Survey.
---
© Shake Up Learning 2022. Unauthorized use and/or duplication of this material without express and written permission from this blog's author and/or owner is strictly prohibited. Excerpts and links may be used, provided that full and clear credit is given to Kasey Bell and Shake Up Learning with appropriate and specific direction to the original content on ShakeUpLearning.com. See: Copyright Policy.
Shake Up Learning QUICKSTART GUIDE
Join the email list to get the latest information about the Shake Up Learning Book AND Get the FREE 20-Page Quickstart Guide that will help you Shake Up Learning in your classroom this year!
Success! Now check your email to confirm your subscription.