Everything is so crazy right now, and we are all faced with a lot of uncertainty.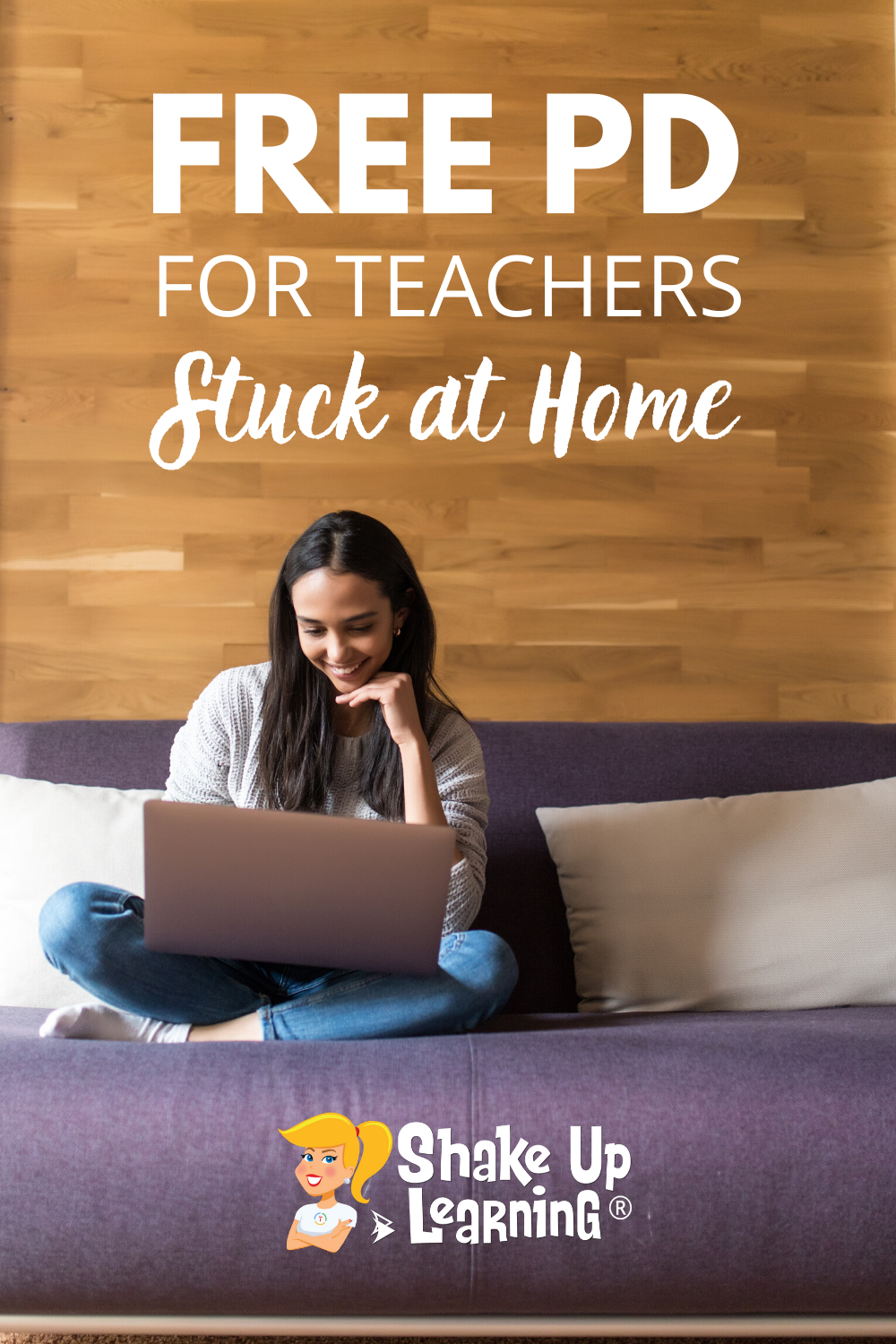 Some teachers are on spring break, some are on an "extended" spring break, while others are making a go of home learning.
Life looks different. Teaching looks different.
I have created hundreds of free resources, podcasts, videos, webinars, templates, and more during my 6+ years as a blogger.
You may be stuck at home with time on your hands. Here are some professional growth and learning options while you wait.
Below I have curated many different professional learning resources for teachers including, ebooks, podcasts, templates, articles, and more!
Grab a FREE eBook
I've got a ton of free ebooks to help you learn all kinds of stuff. Sorry, each of these does require you to fill out a form and check your email to get the download.
Grab a FREE Template
I've got a lot of free templates and downloads for you and your students! Working on more, and giving easier access to all of these.
Check out these posts for details:
Watch a FREE Webinar
I have several recorded webinars available to watch on-demand at any time!
Online Learning Tips for School Closures

: Best Practices for Teachers & Schools. Join me for this free webinar with Jennifer Pearson, an American teacher who evacuated from China because of the coronavirus. Jennifer shares best practices and tips for online learning and home learning with students during extended school closures, like the coronavirus. Get a plan and be prepared!

5 Things to Know About the New Google Classroom

: Learn all about the updates to Google Classroom! Ready to catch up with Google Classroom, learn about the new features and how to implement in your classroom? This is a MUST SEE Google Classroom Tutorial!

3 Things That Will Change the Way You Use Google Slides

: Learn why Slides is the most versatile tool in G Suite! In this webinar, I will show you why I call Google Slides the Swiss Army Knife of G Suite. Slides is much more than just a presentation tool. Learn how to use it as a collaboration and creation tool!

How to Get Google Certified!

: Learn all about the Google Certification Options for Educators! Getting Google Certified can be daunting and confusing, so I put together this free webinar on How to Get Google Certified! I'll let you in on a secret. Becoming Google Certified was the BEST decision I ever made as an educator. It completely changed my career path, sky-rocketed my Google skills, transformed my classroom, and helped me connect with some of the most inspiring teachers in the world! I want more educators to experience the professional growth that I have, and more importantly, I want to help you transform your classrooms and give students the skills they need for the future.

How to Create Dynamic Learning Experiences for Students

: Learn How to Transition From STATIC Teaching to DYNAMIC Learning! Technology is NOT a solution. It is an opportunity for DYNAMIC LEARNING! Learning can now go BEYOND the bounds of the school walls, beyond subject and grade level, beyond digital tools as substitution, beyond the due date, and even beyond the school day. Are you making the most of the digital tools at your disposal? Is the learning in your classroom static or dynamic? Join Kasey Bell of ShakeUpLearning.com for this FREE webinar overview of the Dynamic Learning Model and Framework from her book, Shake Up Learning: Practical Ideas to Move Learning From Static to Dynamic.
Stay tuned for a new Remote Learning webinar series starting next week! (Registration will be available soon!)
Listen to a Podcast
I've been podcasting for several years now, and it's one of my favorite ways to learn while I'm working out or cleaning the house.
I have two podcasts,
New to podcasts? Check out the Teacher's Guide to Podcasts to learn the basics.
Check out my list of podcast recommendations for educators here.
Not sure where to start, try one of these FREE choice boards:
Click Here to Make a Copy | Use the Template (best for mobile)
Don't have Google? Download the PDF.
Click Here to Make a Copy | Use the Template (best for mobile)
Don't have Google? Download the PDF.
Top 10 Shake Up Learning Show Episodes:
Top 20 Tech Tips for Teachers – SULS001

How to Plan for Technology Integration – SULS005

[On-Air Coaching] Staying Focused on the Learning Goals – SULS006

A Framework for Meaningful Technology Integration – SULS003

Easy Lesson Plan Makeovers for Your Classroom – SULS004

[LIVE from ISTE] 10 Awesome Ways to Use Flipgrid in Your Classroom – SULS021

The 4 C's: The Superfoods of Learning – SULS002

BONUS: Coronavirus Closures: Online Learning Tips for Teachers and Schools

How to Create Drag and Drop Activities with Google Slides – SULS027

Stop Asking How to Put a Worksheet in Google Classroom – SULS018
Read a Blog Post
Below are the Top 10 Posts on Shake Up Learning right now:
70+ Apps That Integrate with Google Classroom

How to Insert Audio in Google Slides (Step-by-Step)

Grace is Greater Than Grades

Coronavirus Closures: Online Learning Tips for Teachers and Schools

How to Organize Assignments in Google Classroom

Interactive Learning Menus and Choice Boards with G Suite

25 Things You Didn't Know Google Slides Could Do

15 Google Classroom Tips for Teachers

Force Users to Make a Copy of a Google Doc

10 Google Classroom Tips You Didn't Know
Prep for Google Certification
If you want to work on your Google Certification while you have time at home. I have several free resources to get your started.
Watch a YouTube Video
Subscribe to the Shake Up Learning YouTube Channel and check out the video library. (More videos added soon!)
New to Shake Up Learning? Take a Tour!
© Shake Up Learning 2022. Unauthorized use and/or duplication of this material without express and written permission from this blog's author and/or owner is strictly prohibited. Excerpts and links may be used, provided that full and clear credit is given to Kasey Bell and Shake Up Learning with appropriate and specific direction to the original content on ShakeUpLearning.com. See: Copyright Policy.